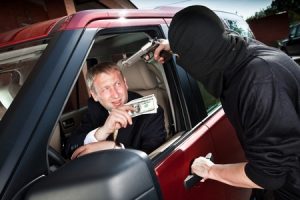 Robbery in Oklahoma is a crime that feeds on fear and violence. We may think that it is the same as other kinds of theft, but it is different in McAlester.
Most theft is achieved through stealth. Petty theft, pickpocketing, and the like, are crimes that depend on stealth. The thief tries to grab the property with as little notice as possible.
But robbery is a crime that feeds on violence, the threat of violence, and fear. It depends on physical confrontation and intimidation.
What is Robbery in Oklahoma?
Robbery in Oklahoma is defined as the wrongful taking of another's personal property from that person's body or from the immediate surrounding area by means of force or fear. (Okla. Stat. tit.21 § 791)
Classic examples can include a liquor store holdup, a mugging, and a theft in which the assailant threatens violence if a wallet or jewelry is not immediately handed over.
The use of force or fear in taking something from the person of another makes this a crime against a person. The amount of force used is immaterial. Even a slight bit of force, if it causes fear in the victim, will be sufficient.
Force and fear make it much more likely that the victim will be injured in a robbery. This is especially true when a dangerous weapon is used in the commission of the crime. And penalties in Oklahoma are harsh.
Robbery in the First or Second Degree
First-degree robbery involves the threat or infliction of immediate serious bodily injury. The victim is in fear of immediate bodily harm. Robbery in the first degree is punishable by not less than 10 years in prison. (Okla. Stat. tit.21 § 798)
All other robberies are charged as second degree. (Okla. Stat. tit.21 § 797) Robbery in the second degree is punishable by up to 10 years in prison. (Okla. Stat. tit.21 § 799)
Both are felony convictions in Oklahoma.
Adding a Deadly Weapon
Adding a deadly weapon to a robbery puts the victim in fear of death. As such it is treated harshly in Oklahoma, and can expose you to life in prison if you are convicted. (Okla. Stat. tit. 21 § 801)
In addition, if a deadly weapon is involved, you will be subject to the 85% rule. (Okla. Stat. tit. 21 § 13.1) If convicted, you will have to serve 85% of your sentence before you are eligible for parole.
Possible Defenses
The facts and their chronology are extremely important in these cases. In robbery, the force or fear used must be either to get or keep possession of the property, or to overcome the victim's resistance to the taking.
If the force or fear is used only as a means of escape, there is no robbery. (Okla. Stat. tit.21 § 792) This is an important distinction. Waving a gun during your escape may make this a crime of theft instead of robbery.
Finally, if the taking occurs without the knowledge of the victim, there is no robbery. (Okla. Stat. tit. 21 § 796) Pickpocketing is a crime of stealth, not robbery.
Free Consultation: McAlester Criminal Defense Attorney
If you or someone you know has been accused of robbery in Oklahoma, please contact a McAlester criminal defense attorney to discuss your available legal options.
Consult with an experienced attorney at the Wirth Law Office – McAlester today, by calling 918-302-9656.
If you prefer, you can use the box in the upper right-hand corner of this page to send a question or brief message.